Right click on a division node to add a new asset.
User will be asked to give asset a name.
Left click an asset node to select it. A right arrow icon will identify it.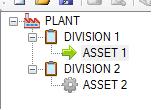 Selecting an asset node will show the relative asset panel on the right and it will be possible to insert asset info.
JOB / SERIAL NUMBER
CONSTRUCTION YEAR
SUPPLIER
DESCRIPTION OF ASSET
MANUFACTURER